.
My name is Eleanor Davis. I'm a cartoonist and illustrator. My books include How To Be Happy, You and a Bike and a Road, and The Secret Science Alliance and the Copycat Crook.  I live in Athens, Georgia.
.
//  squinkyelo (at) gmail (dot) com  //   Twitter  (18+ only. extremely crude.) //  Tumblr  (ditto, often.)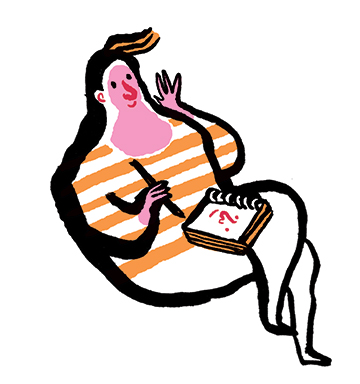 Clients include: The New Yorker, The New York Times, Google,  The Atlantic, The Wall Street Journal, Plansponser, MIT Tech Review, Lucky Peach, Time Magazine, Telerama, Slate, BusinessWeek, The Washington Post, The Guardian, Fantagraphics Books, Dutton, TOON Books, First Second Books, Houghton Mifflin, Workman Publishing, and Bloomsbury Books.
.
Awards and recognition include:  Society of Illustrators – Gold and Silver; Eisner Nominee (Secret Science Alliance); Ignatz Award – Outstanding Anthology or Collection 2015; Print Magazine's New Visual Artists 2009; Theodor Seuss Geisel Honor (Stinky); Russ Manning Award (Stinky);  Best American Comics 2008 + cover, Best American Comics 2013, Best American Comics 2015.
In 2017 I was arrested for engaging in civil disobedience along with Freedom University.
.
I'm also available to do work as half of the illustration team Never Ever Even with Katherine Guillen.
My husband Drew Weing is the creator of the excellent Creepy Casefiles of Margo Maloo.
.